August 21, 2018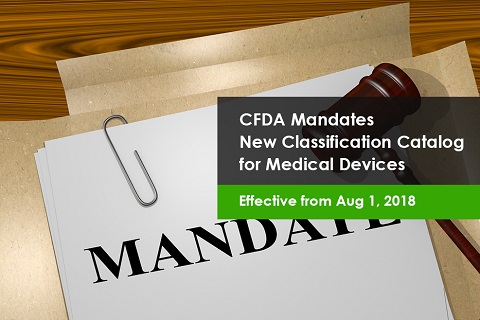 On August 1, 2018, China Food and Drug Administration (CFDA) - the Chinese health authority, has taken a major step towards classification of medical devices to be marketed or currently being marketed in China. The CFDA has officially published and mandated the new Medical Device Classification Catalog. To be on par with continuous changes in regulations for medical devices and considering the innovation taking place in the global life sciences sector, the CFDA has initiated updating their earlier catalog which was published in the year 2002. On August 31, 2017 they even published a draft guidance for the same.
Now, with the mandated version, the CFDA is all set to bring forth the device classification that is based on device category and subcategory. Aiming at a more streamlined structure, the new catalog, as published by an external source, includes below major changes:
The device categories were decreased in number from 43 to 22 which in effect resulted in reduction of percentage of Class III medical devices
Eliminated duplicates in sub-categories to add clarity
Included 1,157 sub-categories to improve the ease of classification
Product description and the intended use are added to the factors taken into consideration while determining the device classification
The number of device names provided as examples has been increased from 1,008 to 6,609
The new classification comprises of a 3-level structure which is more logical and aligns close to the clinical practice
The new device classification catalog is expected to affect the registration process of medical devices for new applicants and existing manufacturers in case of renewals, and re-classifications. How is it going to impact existing and future registrations?
Products whose applications have already been approved will not be affected by the new classification, however post Aug 1, 2018 all registrations and review should be done as per the new catalog.
Class I devices filing notifications obtained before the Aug 1, 2018 will remain valid but if their product is up-classified, then the applicants must apply for new registration. Post Aug 1, 2018 all Class I devices should be filed as per the new catalog.
As it is too early to conclude whether the new catalog will ease the device classification and simplify the review process, it is required to understand, how prepared are you for the successful compliance. A regional expert's assistance to decode the device classification and Regulatory procedures might prove helpful to navigate the complexities. Make an informed decision. Act now for compliance.