March 16, 2021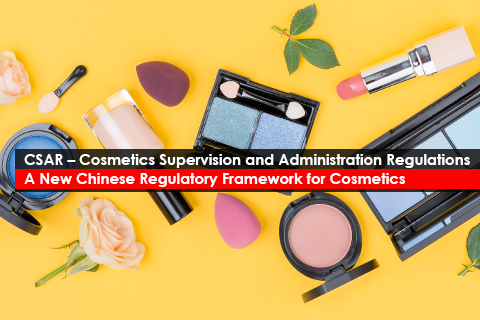 Are we really driven towards the fast-paced cosmetic world? The real purpose of using cosmetics is not just to look good to the human eyes, but it also helps to enhance the beauty of the inner self and hence using them has become the core factor. A country like China has broken the momentum and cosmetics is one of the most rapidly growing industries.
In China, cosmetic products are defined in two categories, non-special use cosmetics (non-SUC) and special use cosmetics (SUC). The non-SUC category includes skincare, haircare, make-up products and perfumes whereas the SUC category includes hair growth products, dyes, slimming products, Breast beauty products, deodorants, sunscreen, whitening agents. Furthermore, the Regulatory body of China is sub-divided into: State Administration for Market Regulation (SAMR) and National Medical Products Administration (NMPA).
New Cosmetic Regulations Implemented for Special and General Cosmetics in China
Recently, the Ministry has approved a new regulation i.e., Cosmetics Supervision and Administration Regulations (CSAR), which has replaced the Cosmetics Hygiene Supervision Regulations, released in 1989. The CSAR came into force from January 01, 2021 for which, China, would release administrative rules to establish China's Cosmetic Regulatory Framework. The new rules have brought drastic changes in the Regulatory framework for Cosmetics in China, cosmetics now are defined as Special Cosmetics and General Cosmetics. Special Cosmetics are required to be registered with the NMPA and the registration certificates are only valid for five (5) years, whereas the 'General cosmetics' are subjected to filing and these certificates do not have any expiry dates.
The categories of products that were earlier considered under the 'Special Cosmetics' category such as slimming, breast beauty, hair growth, deodorants, etc., would be under a five (5) year transitioning phase, in which these products can be manufactured, marketed, and imported, but after five (5) years these products would be prohibited. For the products manufactured in China, the applicant should provide test and research data, which were specifically carried out for the Chinese market. According to CSAR, the cosmetic ingredients are categorized as 'new ingredients' and 'existing ingredients.' The new ingredients which possess high risk should be registered with the NMPA and the others should just be filed with the NMPA and after three (3) years of registration or filing, it is necessary to submit annual safety reports for the new ingredients. It is also necessary that for any additional new ingredient, a safety assessment test should be done by the professionals with more than five (5) years of experience. To consider any cosmetic claim, the applicant must provide sufficient scientific evidence on the NMPA's website.
To enhance visibility in China's ever-growing cosmetic market, an enterprise, or an applicant, should follow the norms laid down recently by the Ministry. The main intention for CSAR is to enable incremental innovation and nurture advanced ingredients in the Chinese Market. With new developments in cosmetics, personal care, and household products, it is even more crucial for cosmetics manufacturers to stay up to date with the latest changes in cosmetics regulations in China. Additionally, this makes it extremely imperative for new or current cosmetics manufacturers to choose the right Regulatory partner for seamless end-to-end Cosmetics Regulatory support and expedited market-entry. With this announcement, we are sure you would consider relooking into choosing the most suitable Regulatory strategy to enter or sustain in the Chinese cosmetics industry. Design the best Regulatory strategy customized for your cosmetic products, by consulting our team of experts at Freyr and stay updated with the changes in the Cosmetics Regulatory framework to register and market your cosmetic product successfully in the Chinese market. Stay informed. Stay compliant.