October 18, 2022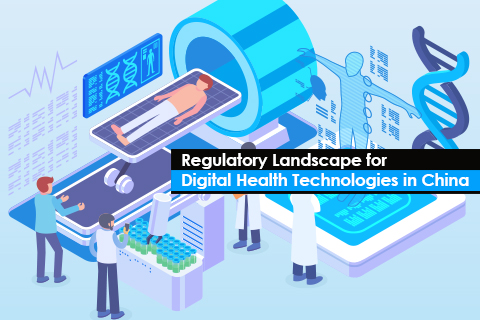 Digital health technologies have become a focus for investors in the healthcare industry in China. The NMPA has set various laws and policies regulating digital health technologies. The NMPA considers digital devices such as healthcare apps, wearables, and Software as a Medical Device (SaMD) as medical devices under the Medical Device Regulation (Order #739). Manufacturers must follow the registration process accordingly.
The NMPA has taken significant steps in evaluating the qualification of the SaMD and released guidelines titled "Guidelines for Technical Review of Medical Device Software (Exposure Draft, Edition II)" to distinguish between medical and non-medical device software with examples. In addition, the NMPA has also released "Guidelines for Classification and Definition of AI-based SaMD" to understand whether or not the software is considered a medical device based on its intended use while taking into account its processing objective, core functions, and other factors. The guidance provides three (03) specific examples of software products that are not regulated as medical devices:
Software used to process non-medical device data (such as patient complaints and test report conclusions)
Software with a core function that is not to process, measure, model, calculate and analyze medical device data
Software that is not intended for medical purposes
Further, the NMPA has released "Guidelines for Technical Review of Mobile Medical Device Registration" to regulate mobile-based fitness apps.
Over the last several years, NMPA has been actively evolving its framework for regulating medical devices that leverage AI, working on several initiatives through the artificial intelligent medical device innovation and cooperation platform. The administration has also issued several different guidance documents.
For example, in 2019, NMPA published a review of key points and relevant instructions on aided decision-making medical device software using deep learning techniques. It describes development, validation, and lifecycle management activities that deep learning medical device developers should consider.
In 2020, NMPA published a few AI-related proposals, issuing draft versions of artificial intelligence medical device – quality requirements and evaluation – part 1: terminology, and artificial intelligence medical device – quality requirements and evaluation – part 2: general requirements for data sets.
Moreover, NMPA proposed an AI-based medical device standards system consisting of 24 standards to address topics ranging from risk management to model training and verification to develop infrastructure and environment.
Most recently, in 2021, the NMPA issued various AI-focused guidance documents, such as Guidelines for Review of Artificial Intelligence Medical Device Registration (Exposure Draft). It provides an overview of the general requirements for the lifecycle management of AI medical devices. It also describes the content that should be included within their registration documentation. NMPA also recently finalized guidelines for the classification and definition of AI-based SaMD, describing an approach to the classification of AI-SaMD products.
The NMPA understands that cybersecurity and data protection is of utmost importance as digitization revolutionizes the healthcare system. To protect the data from cybersecurity breaches, the NMPA has implemented the Multi-Level Protection Scheme (MLPS) as part of the Cybersecurity Law, under which network operators are required to take appropriate cybersecurity measures corresponding to the classification of their information systems. The NMPA released the Personal Information Protection Law (PIPL) to safeguard patients' personal information on October 13, 2020.  
Digital health services are still at a relatively early stage of development but represent one of the largest potential areas of growth in the healthcare sector. With the adoption of 5G and the Internet of Things (IoT), support for digitized healthcare and telemedicine will continue to be a point of emphasis for government planners in the coming years. Manufacturers of digital health devices wishing to enter China must consider all the factors mentioned above to understand the China digital health regulations and plan their Regulatory submissions accordingly.
To know more about China's digital device regulations, reach out to a trusted Regulatory expert like Freyr. Stay informed, Stay Compliant.