November 22, 2018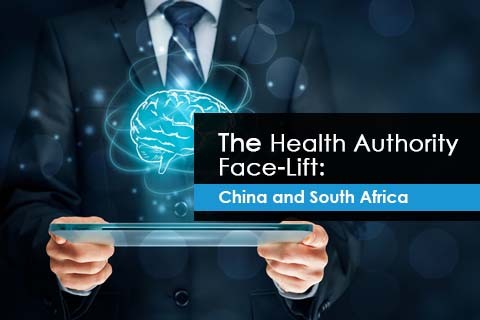 As a big face lift, Health Authorities of China and South Africa have recently revealed their identifications. The China Food and Drug Administration (CFDA), has recently announced the change related to the agency's official English name, the National Medical Product Administration (NMPA). Similarly, South Africa's Medicines Control Council (MCC) has officially concluded that MCC has transferred its supervisory responsibilities to a public entity, the South African Health Products Regulatory Authority (SAHPRA). What led to these changes? Let's learn in detail.
CFDA of China is now, NMPA
On August 29, 2018 the State Food and Drug Administration of China has released a notice stating that it's official English name - China Food and Drug Administration (CFDA) has been changed to National Medical Product Administration (NMPA). The change has also been adopted by medical device registration system in the country from September 1, 2018. All device/drug registrants and applicants shall here forth use the new name and the corresponding abbreviation (i.e., NMPA) to refer to the agency in all of their submissions.
Rise of SAHPRA in South Africa
The MCC has been the in-charge for regulating drugs and devices that are to be marketed in South Africa. But for a while now, it has been lagging behind the US and European drug and device regulators in approving new medicines and clinical trials which is increasingly leading to delays in product approvals and unavailability of new medicinal inventions to the public. With the aim of speeding up the Regulatory processes, fostering transparency, and to bring in better accountability and communication, the South Africa's Minister of Health has appointed members of South African Health Products Regulatory Authority (SAHPRA) as the new Regulatory authority on February 12, 2018.
SAHPRA, a Schedule 3A public entity, was established under the Medicines and Related Substances Act, 1965 (Act 101 of 1965), as amended by Act 72 of 2008, together with Act 14 of 2015. It is authorized to regulate medicinal products, medical devices, in vitro devices and aspects of radiation control. As a separate juristic entity, outside of the National Department of Health (NDoH), SAHPRA is also responsible for monitoring, evaluation, regulation, investigation, inspection, registration and control of medicines, scheduled substances, clinical trials, medical devices and related matters in the public interest.
The new authority, however, is expected to continue the responsibility of MCC utilizing external experts for evaluating applications and it is also expected to actively grow the in-house capacity for evaluating clinical trials and reviewing registration applications.
While the Chinese-market aspirants will have to consider including the new name NMPA in all of their registration dossiers, the market aspirants of South Africa can still anticipate more Regulatory changes as the new authority is set to reform the registration and review processes. Applicants aiming to market their products in any of these countries will need to prepare their applications/registrations as per the above changes and assistance of a Regulatory expert with local presence may help organizations with more regional insights. Be informed. Be compliant.